Website Manager - Content Manager
What is Website Manager?

Every client wants more and more control over their site's content these days ... not only to keep it updated, but to keep the costs down. WebSite Manager is an advanced content management system (CMS) that allows you to not only update every web page on your site, but also add non-technical users as administrators with directory access rights and privileges, enabling them to update web pages, or just sections of web pages.

You no longer need to spend time making minor modifications to web pages for your clients. They can now easily update their own pages without having to learn how to use software programs such as Dreamweaver, Front Page and FTP clients.

You can even restrict access to sections of pages, pages created by the user, individual directories or recursive directories. You can also grant or deny file deletion and file upload privileges. Download your free copy now! Set up takes less than 2 minutes, from download to installation.

Website Manager is also a Web Page manager and Web Page builder. Allowing a community of Users to create their own pages in their own little section of your website. They can also include/insert pre-written templates into their pages at the click of a button. Excellent for creating User Profile pages.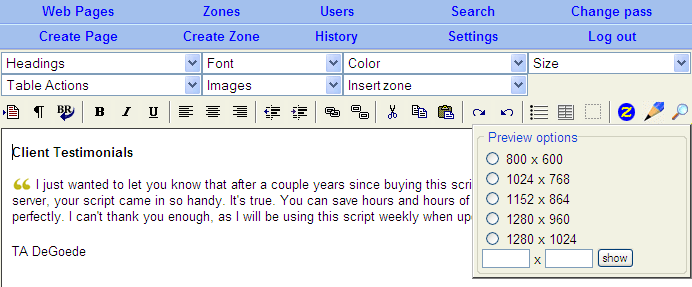 Screen shot of MSIE, Safari, Firefox and Netscape WYSIWYG page editor


See User Guide for more detailed information.

Suggested Uses


Web Page Builder for a community of Users


Web Page Updater for Clients


Business Card Builder for businesses


Allow content authors to include the contents of one file inside another file, allowing the easy creation of script libraries or page headers and footers.


Enabled Clients or Users to update portions of any webpage on their websites without granting FTP access or access to the entire page.


Enable Users to update sections of web pages without granting FTP access or access to the entire page.


Enable Clients or Users to pull in dynamic content you've created, into their own pages. This content is them updated on Client or User pages whenever you update the dynamic file.


User Profile Manager for Users without access to their own Websites.


Safe and Secure Content Management System for all Users and Clients.


Web Page editor with dynamic news feeds for all Users.


Key Features and Benefits
Free updates and support


Compatible with Windows, Unix, Linux, Sun, BSDOS and OSX Mac servers


Compatible with all major Browsers on PC and Mac (Firefox, Safari, MSIE) with no special software required


Allows your clients to update their own pages, or just sections of pages on website you manage.


Saves you a LOT of time and frustration, and gives your client direct access to their own pages without FTP access and with minimal risk


Easy to use and understand WYSIWYG interface


Each User is assigned their own folder where they can add and edit content


Each User is also assigned their own folder for include files


Admin Users can create include files for the shared folder, allowing all Users to easily insert dynamic content into any of their pages


Admin Users can manage files across the entire website


A life saver when your FTP server is down


Supports multiple administrators with rights and privileges (set which clients have access to which folders)


Includes file uploads (you set which file types are allowed)


Requires no knowledge of HTML or FTP


Built in powerful web based WYSIWYG HTML editor including meta tag keywords, descriptions and page properties.


Create, rename, delete files and folders


Built in SSI control (update multiple pages by editing one file)


No software required by clients/users


Simple GUI so any client immediately feels comfortable


Browse entire server (if you allow it)


Set which file types use WYSIWYG and which use regular text areas.


Records detailed history of file edits, uploads, creations and other actions


User profile area which can be updated by the user


Suspend user/client access


Ability to create your own file extension icons. Scripts ship with dozens of the most popular icons and a "catch all" icon.